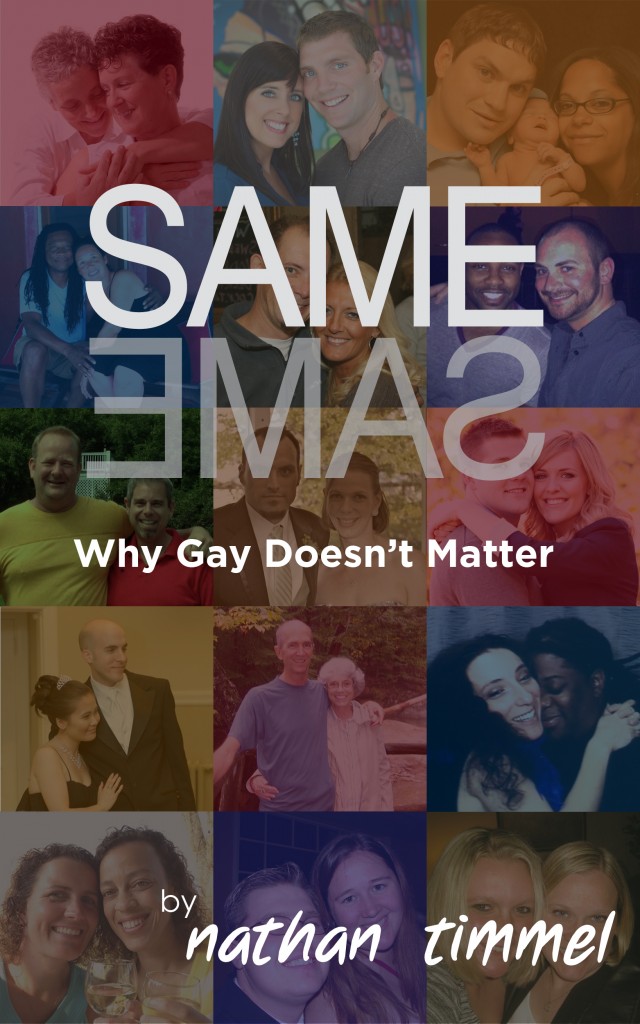 Rooftop contributing writer Nathan Timmel is at it again.
As a straight white male, Nathan fits neatly into the demographic most likely to fear the LGBT community. When 'Gay Rights' are being discussed on the news or in the world of politics, white males are generally those opposed to equality.
In his essay Same Same, Nathan describes how an upbringing devoid of homophobia—something unusual for a small Midwest town in the early 1980s—prevented him from falling into the trappings of bigotry. Though various forms of racism and prejudice governed many around him, Nathan maintained the strong belief that all people are equal.
With stories from childhood to current day, Nathan describes:
The intolerance he witnessed in small-town Wisconsin.
Gay bars he tentatively visited in Milwaukee (only to find they put straight bars and their testosterone-soaked clientele to shame).
His own near miss with gay bashing while walking with a friend in Boston.
A run-in with an overly zealous fella at his local gym, someone who held an all-too-obvious interest in Nathan.
Despite surroundings that should have tainted his point of view, Nathan turned a shoulder to the negativity, returning instead to the strong belief instilled in him as a child: love is love, no matter the gender of those involved.
Here's an excerpt:
I was almost twelve years old when I first learned what homosexuality is. This would have been 1981, before the Internet gave humanity the availability to spread information worldwide instantaneously. I'm betting kids as young as four know what "gay" is today, but back then YouTube and Facebook didn't exist. Social networking occurred on front porches or in the supermarket, and kids played baseball outside, not on videogame systems. (A truth that could, if I were so bold, lead me down a path involving the obesity epidemic America faces. But I'll leave that be. For now.)
Though I may not have known what homosexuality was during the first decade of my life, it had still existed around me in a very open way. Every so often my "uncles" James and Tony would visit my family, or we would visit them. They lived together in Chicago, and to my wee little mind it was simply two of my dad's many brothers living together. The arrangement made sense to me, and when we visited I never exactly put on a Sherlock Holmes cap and poked around: "Why, this apartment seems to have only one bedroom, and said bedroom doesn't have bunk beds. How odd."
I really liked Tony, because not only was he flamboyant and fun, he indirectly allowed me to see my very first R-rated movie; Tony has a small part in The Blues Brothers. Because of that fact, my parents allowed me to slide into the theater ahead of the age-17 restriction placed upon the film. Tony isn't in the credits, which is odd, because he actually has a speaking part. In the French restaurant, when Jake and Elwood are trying to recruit Mr. Fabulous back into the band, Tony is the waiter who says "Wrong glass, sir" to Dan Aykroyd. Give the scene a glance; you can tell he's gay just by looking at him. Not that it matters, but the second R-rated movie I saw was The Road Warrior, and my first PG movie was Orca, the Killer Whale. I may not remember my wedding anniversary, but I can remember these nuggets of useless information. Yup.
Regardless, as relationships do wane, eventually James and Tony parted ways and the next time we visited I was introduced to my "uncles" James, and Ray. Even as a child, I was not stupid and knew something was amiss. Apparently Ray had been hidden away in a Harry Potter-style closet for many years, my grandparents were adopting full-grown men into their family… or something else was happening. Something I didn't quite comprehend at such a young age. As James was the constant variable in the two relationships, he was obviously my father's actual blood relation. Now I had to wonder: who were Tony and Ray?
Same Same is now available on the Amazon Kindle.
Posted: September 9th, 2013 under Ruminations, theorizations and stuff.
Comments: none