Are You There Xenu? It's Me, Nathan.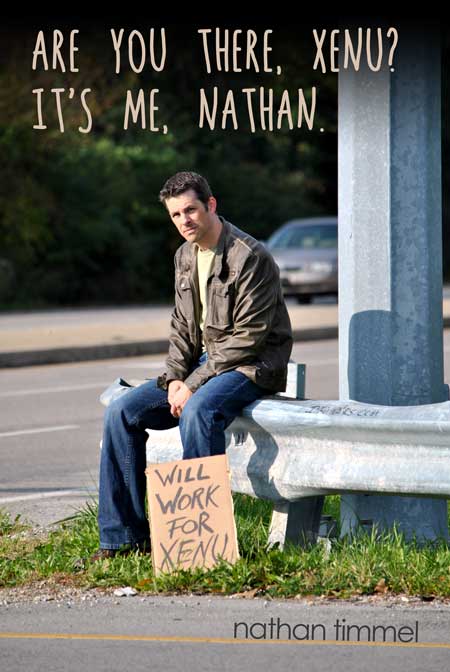 Rooftop contributing writer Nathan Timmel is at it again:  another 99-Cent mini-eBook is out.
This time Nathan is writing about his minor experiences with Scientology.
What's he have to say?
Read an excerpt…
In 1989 I moved to Boston, MA, to attend the Berklee College of Music.
(Motto: "For just $40,000 you get a degree that makes you unemployable.")
Newbury Street—a happening little avenue filled with many nifty little shops—was close by, and when bored my friends and I would often meander the length of its eight blocks. We would pop in and out of eclectic stores and coffee houses, and when the weather was nice be politely harassed by well-dressed people asking, "Would you like to take a personality quiz?"
For the better part of two years, our answer was "Nope," but one day a trio of idiots out carousing—my friends Barrett, Peite (yes, that's how he spells it), and I—were bored enough to say, "What the hell: Yes."
We thought it would be a quick, five-minute process of being asked silly questions while standing on the street corner, but the cute young woman—and of course she was a cute young woman; you think we would have stopped to talk to a man?—told us to follow her lead and headed north. Well, shit. This was going to eat up more time than we had initially planned, but decided to Prefontaine it across the finish line and followed along.
We walked several blocks to Beacon St. where a Scientology Center awaited us. It was a magnificent, old school converted-home, made of brick and with a castle-like rounded spire on the corner—a tower from which Rapunzel could drop her lockets and be rescued, so to speak. Little was known about Scientology back then, and the Internet didn't exist for anyone to simply Google-up and Wikipedia an explanation. Basically, we had no clue what we were getting into.
We were shown in, and immediately two things happened: first, our recruiter was greeted as if Norm from Cheers. Everyone knew her; everyone loved her. Everyone was happy, smiling and ready to shake your hand.
"Angela! So happy to see you! Who's this with you? Nathan? Nice to meet you Nathan, I'm Bob! We're happy to have you with us today…"
It was a neat trick used to make lonely people feel welcome and relaxed; "Wow, everyone here is like one big happy family. I should hang out with them, and then I'll be popular, too!" Personally, it made me wonder what Kool Aid everyone was drinking. There's naturally friendly, and overly friendly. This was the latter by a mile, and I became suspicious.
The second thing to happen was the most important event of the day: divide and conquer. Like a wingman removing the fat chick from her delicious friend, we three traveling companions were separated from one another and taken to different sections of the main room. Once isolated, we were introduced to the person who was going to administer (or monitor) our "Personality Quiz."
(Naturally, we were all left thinking, "Wait… we came here on the whim of talking to the pretty girl… Where is… Hey she's leaving…" Very bait and switch classic; use beauty to bring in the gangly and awkward college student lacking self-confidence, then have said beauty skedaddle her pear-shaped heinie away. Kudos, Scientology. Kudos.)
Buy Are You There Xenu? It's Me, Nathan now.
Posted: March 20th, 2014 under Uncategorized. Author: nathanTimmel .
Comments: none