Retrospective: White Legends of the NCAA Tournament
BYU returns to play tonight, led by their celibate Caucasian superstar Jimmer Fredette. Jimmer, known as Jameser to his friends, is averaging 33 points a game through the first two games of the tournament. The third-seeded Cougars, ironically named after the groupies that their school's honor code forbids them to enjoy, face off against the second-seeded Florida Gators. If you have premarital sex at BYU, you are kicked off the team, while at Florida, premarital sex is an integral component of the pre-game shoot around.
Jimmer is a thrilling player, and easily the greatest white player remaining in the big dance. Duke's Kyle Singler has the pallor and softness of a traditional Caucasian great, but he lacks the sharpshooting and family connections of a Mike Dunleavy, Jr., the scrappiness of a Wojo, or the premature baldness of a Danny Ferry.
In honor of what might be Jimmer's final college game, let's take a look at some of the other great white heroes of March Madness.
First up is Valparaiso's Bryce Drew. In 1998, Drew hit a three-pointer at the buzzer and 13th-seed Valparaiso beat Mississippi State. Drew became a first-round draft pick, washed out of the NBA quickly, and his shot has been a part of March Madness montages ever since.
Drew is a great white hero not just because of his dramatic shot, but because he exemplifies many white values. The success of the play relied on the white collegian's bread and butter, shooting accuracy, rather than running, jumping, or dribbling. His father, Homer, was the coach who drew up the play for him, meaning the miracle was made possible by nepotism, traditionally an important part of white culture. Drew currently works as his father's assistant and designated successor, meaning he also represents the white value of inherited wealth.
The miracle involved accurate shooting, and was also made possible by Ansu Sesay missing two free throws right before the attempt. "That's why they call them free," said white dads all over America, including Homer Drew himself.
Adam Morrison was the Player of the Year at Gonzaga in 2006, along with fellow Caucasian J.J. Redick. In 2006, not 1956! It's like giving out a Computer of the Year award, and splitting it between an Apple Newton and a Speak and Spell! Morrison starred at Gonzaga, the school that produced such players as John Stockton (white), Blake Stepp (white), Dan Dickau (white), and Ronny Turiaf (black, but French). He was a devastating college scorer with a 15-inch vertical leap, and became entirely ineffective upon reaching the NBA, where he faced players who could actually jump to contest a shot.
In his final college season, Morrison and his teammates nearly upset UCLA, but blew a 17-point lead. Not only did Gonzaga suffer a stunning defeat, the loss left Morrison face down on the court, crying his eyes out. And as Yelp.com has taught us, there's no whiter reaction to something that displeases you than crying about it in a public place.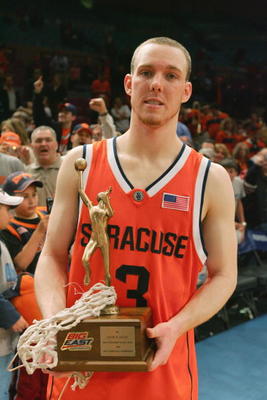 Gerry McNamara of Syracuse was an undersized white point guard who could shoot three-pointers like no other. He won an NCAA title as a freshman, hitting six three-pointers in the first half, though some would argue that Syracuse won thanks to another talented freshman named Carmelo Anthony. McNamara continued to bomb threes for the remainder of his career, winning two more Big East titles, to go along with the thirty-seven sunburns he received in his college career.
Three-point shooting is the whitest basketball activity there is, and McNamara excelled at that, but he's really on this list due to his name. "Gerry McNamara" could easily be a retired police captain from the Boston PD, a prizefighter from the '50s who only fights guys named Dutch and Rocky, or the backup guard at Hickory High. Gerry McNamara is going the plaque in the Caucasian college basketball Hall of fame simply because "Whitey McWhiterson" wouldn't fit.
Christian Laettner is the prototypical white March Madness hero. He went to Duke, the whitest college, and played for Mike Krzyzewski, who is the whitest coach in America, if not the whitest man entirely. He had the strong jaw and vaguely homoerotic look of an Abercrombie model. Even his name evoked family values, Republican fundraisers, and colonialist missionary efforts. They might as well have called him "Judeo-Christian Laettner."
Laettner's greatest game came in the 1992 East Regional final versus Kentucky. He shot 10-for-10 from the field, and 10-for-10 from the free throw line AND stomped on the chest of a black player. And he got away with it! That Duke team also featured Caucasian superstar Bobby Hurley, and their best black player was named "Grant." In other words, the way to say "government assistance" for white people instead of saying "welfare." And like all true white college superstars, Laettner's pro career was extremely disappointing.
Posted: March 24th, 2011 under Sports. Author: seanKeane .
Comments: none