NFLOL: Week 16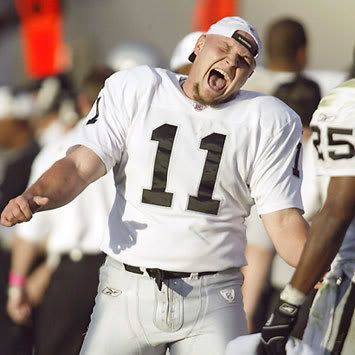 What a week for America's #1 sport, with exciting games going right down to the wire, and championships decided by a single yard.  Of course I'm talking about Fantasy Football. For America's #4 sport, the NFL (behind Fantasy Football, college football, and MMA cockfighting), it was a disappointing, crappy week, with playoff teams stumbling, playoff aspirants bumbling, Detroit Lions fumbling, and a TV ratings tumbling.  Half the teams will be playing hard in Week 17, half the teams will be resting starters, and some sad AFC contender will lose to a resting team anyway, guaranteed (Hint: Houston).
San Diego 42, Tennessee 17
On Christmas Eve, Titans fans were nestled all snug in their beds, while visions of a wild-card berth danced through their heads.  The Christmas night game was supposed to be a present, but when the fans unwrapped it, all they found was a large turd, crudely carved into the shape of Santa Claus.  The Titans were totally unable to stop the Chargers, who passed and ran at will.  Fullback Mike Tolbert led San Diego in rushing, while backup QB Billy Volek took revenge on his old team with some dominating kneeldowns in the final seconds.  The only disappointed Charger was Mike Scifres, who only got to punt once.
Why Didn't We Bench Our Quarterback Earlier, Part One:  Vince Young is now 7-2 as a starter, after the team started 0-6.  Had the Titans won any of their first three, eminently winnable games, they'd be in solid playoff shape looking at Week 17 against the terrible Seattle Seahawks.  Of course, if they'd won one of the games, Vince Young may have been benched even longer.  Chris Johnson has one more week to try for the rushing record, needing 233 yards, and as Seattle is going for the suckiness record , CJ just might do it.
New York Jets 29, Indianapolis 15
Indianapolis pulled its starters with a small lead in the third quarter, and the Jets came back to end Indy's undefeated season.  THIS is why the NFL needs a BCS system for determining its champion!  If the Colts had to worry about a system of polls and computer rankings, they'd have kept the starters in and played hard to the final whistle.  Instead, we have to suffer through a multi-game post-season tournament with pairings determined by the gauche method of won-loss records.  Unless Congress steps in, things are never going to change.  The fortunate Jets get another game versus a disinterested opponent next week, when they face the already-clinched Cincinnati Bengals.  If the Jets could just convince their playoff opponents to also bench their starters at halftime, they could be a dark horse Super Bowl team.
Cincinnati 17, Kansas City 10
The Bengals clinched the AFC North title with an unimpressive win over Kansas City.  Coming off a mid-week funeral and a cross-country flight, they deserve credit for putting together a 98-yard drive late in the 4th quarter to win it.  Kansas City also deserves credit for not allowing a single 100+-yard kick return, for holding Cedric Benson under 150 yards, and for Matt Cassel only sniffling and wiping his eyes during the second half, rather than his usual out-and-out bawling.
While Cincinnati deserves their playoff berth, some of the luster is off them now that Chad Ochocinco respectfully prays after every touchdown.  He knelt and held up a single finger on one hand and five on the other, signifying Chris Henry's uniform number (15, or what Chad would call "Unocinco").  It used to be that each score created buzz and anticipation – what would Chad do this time? – and now the only intrigue comes in guessing whether he recites only Hail Marys, or if he throws in an Our Father.  Quite a ways from the sombrero in just a month.
Atlanta 31, Buffalo 3
Roddy White scored on Atlanta's first offensive play and it never got better for the Bills.  Brian Brohm did about as well as Trent Edwards and Ryan Fitzpatrick as Buffalo's QB, throwing two INTs in his first NFL start.  While multiple QB injuries hurt Buffalo this year, they did have the effect of shutting down complaints from Terrell Owens.  When TO had no idea who'd be throwing passes week to week, it was hard for him to criticize a particular signal-caller, or raise questions about their sexuality.   In one of his final games as a Bill, Marshawn Lynch rushed for only three yards – he may have a future next year as a pseudo-Sean in Philly.

Cleveland 23, Oakland 9
This was a week where fans of terrible teams, dreaming on mediocre backup quarterbacks, had their dreams shattered.  Charlie Frye threw for over 300 yards, but it wasn't enough to get the Raiders into the end zone.  He also threw four near-interceptions in five passes in the middle of the fourth quarter, a sequence that led to five different cardiac ward visits in the greater Cleveland area.  Eric Mangini is now looking at ending the season on a four-game winning streak and still getting fired.  The highlight of the game came when Sebastian "Sea Bass" Janikowski drilled a 61-yard field goal, the most impressive Polish boot since they kicked out the Germans after World War II.
Green Bay 48, Seattle 10
Ever since Mike Holmgren left Brett Favre and Green Bay for Seattle, the Packers have mostly owned the Seahawks.  It's as if George Martin had left the Beatles and formed a new band, taking with him Pete Best and Stu Sutcliffe. And then, every few years, the new band had to compete against the Beatles in a Battle of the Bands, with predictable results.  Now Holmgren and Favre are both gone, but the result remains the same: the Seahawks got hammered, Matt Hasselbeck played like Stu Sutcliffe having an aneurysm, and Greg Jennings had over 100 yards receiving and made out with a German photographer.

Houston 27, Miami 20
The Dolphins finished the year with four consecutive games against wild-card rivals.  They managed to beat Jacksonville, but couldn't quite get past Tennessee or Houston, as the Texans now improbably control their own playoff destiny.  This was still an impressive year for Miami, who stayed in the hunt despite losing their starting QB and then the guy who took the second-most snaps, running back Ronnie Brown.  Unofficially, the Dolphins set a record for most huge leads taken, given up, and overcome in a single season.  They came almost all the way back from 27 down on Sunday, but ran out of time at the end.  Still, Coach Tony Sparano and the Dolphins will want to play spoiler versus Pittsburgh next week, which will happen in the form of an on-field victory, or some off-the-field tire slashings, and shady insurance scams.

New England 35, Jacksonville 7
In the annals of ill-advised trash-talking, a few notable moments stand out.  Biff Tannen saying "You and what army, McFly?" Spartacus yelling at a legionaire, "Come on! They can't crucify ALL of us!"  And Rashean Mathis claiming that New England was "not the same Patriots" as in years past.  Tom Brady crucified the Jaguars secondary with  23 of 26 passing, the outcome was never in doubt, and Mathis recorded exactly one solo tackle.  Honestly, he's not the same corner he was a few weeks ago.
Tampa Bay 20, New Orleans 17
New Orleans led 17-0, Drew Brees completed 32 of his 37 passes, and the Saints still lost an overtime shocker to the Buccaneers.  It was a David vs. Goliath kind of victory for Tampa Bay, only more so – David was at least in the army.  This would have been like Goliath losing to a little girl who washed dishes for the Isrealites, after Goliath hooked a very makeable field goal.  This is another data point in a potentially huge NFL Playoff s story – half the teams can't trust their kickers, so we might see an unprecedented number of go-for-its on fourth down, and an unprecedented number of shanks.  Adjust your gambling accordingly, degenerates.
Carolina 41, New York Giants 9
Why Didn't We Bench Our Quarterback Earlier, Part Two:  Carolina is now 3-1 since Matt Moore replaced Least Valuable Player front-runner Jake Delhomme.  With Jay Cutler's Monday night win over Minnesota, Delhomme may have locked up the LVP award, which is a large bust of Ryan Leaf's face, and comes with a Chevrolet Aveo and a DVD of "All About Steve." Jonathan Stewart ran for over 200 yards, and linebacker Jon Beason has 13 tackles in his best performance since his verse on Miami's "Seventh Floor Crew" rap.
Pittsburgh 23, Baltimore 20
Baltimore had over 100 penalty yards, which negated two different touchdowns, losing a close game the resurgent Steelers.  That's a typical Ravens game, where their talent impresses, but their propensity for late hits and illegal blocks sabotages their effort, in the same way that Ray Lewis' stellar party-planning is marred by his propensity for stabbings.  Pittsburgh couldn't run the ball, they turned the ball over, and they gave up a big kick return, and they still won.  They're still quite likely to miss the playoffs, but then again, they were unlikely to win their games the last two weeks too.  Fans of enormous sandwiches, surly half-Korean wide receivers, caveman-faced quarterbacks with brain injuries, and Omar Epps could be very excited as long as the Jets/Texans choke next week.

Arizona 31, St. Louis 10
In a game that only had implications for the Rams' quest for the #1 pick, Arizona held the Rams scoreless for the first half and despite a third-quarter scare, the game was never in doubt.  Kurt Warner threw two touchdowns as St. Louis fans asked themselves, "Why did we let him go again?"  The Rams started Keith Null again at QB, though they brought in Kyle Boller (AKA "Void") to throw a token incompletion. Which was a nice gesture.
San Francisco 20, Detroit 6
On the plus side, they 49ers rolled at home, Frank Gore broke the 1,000-yard mark, and the team actually made some aggressive play-calls, picking up huge yardage in one play-action fourth-down attempt.  On the down side, the 49ers forced six turnovers playing against the least-talented team in the NFL, at home, and still only won by 14.  It's encouraging that the 49ers no longer lose to the absolutely awful teams; the problem is that they can't beat anyone mediocre-to-good besides Arizona.  With the Rams and Seahawks in the NFC West, destroying awful teams becomes especially crucial.  Improbably, the 49ers could get to 8-8 next week, though they might be tempted to tank the game to hand the #1 pick to Detroit.  For you draft enthusiasts, no less than seven games have relevance in determining the weakness-of-schedule tiebreaker between the Lions and Rams.  Week 17 fever – catch it!
Philadelphia 30, Denver 27
A fumbled kickoff let Denver back into this game, but the Eagles kicked a last-second field goal to clinch it.  The key play was a long pass to Jeremy Maclin, initially ruled incomplete, that was overturned on replay review.  Thankfully, it occurred within the final two minutes, meaning the replay assistant reviewed it automatically and Andy Reid didn't have to make a decision involving a timeout.  Last year, Mike Shanahan was fired for blowing an 8-5 record and missing the playoffs.  When Josh McDaniels wastes a 6-0 start, he's going to be forced to spend the off-season selling cars at one of John Elway's dealerships.
Dallas 17, Washington 0
Al Michaels seemed openly peeved that he was forced to watch the Redskins stumble around for four quarters.  Isn't NBC allowed to flex games precisely so America doesn't have to watch Jason Campbell in prime time?  The Redskins also have a way of making teams look unimpressive against them, even in the midst of a 17-0 shutout.  I felt worried for the Cowboys: Why couldn't they sack Campbell ten times, instead of four?  Why did they keep getting stopped on fourth-down runs versus a team that clearly didn't care anymore?  Would Jerry Jones' facelift hold up in a potential cold-weather playoff road game?
Chicago 36, Minnesota 30
I expected an interception duel between two December quarterbacks, and instead, we got a classic overtime shootout.  The win may be the first step in rehabilitating Jay Cutler's career in the Windy City, and, dare I say it, the beginning of a legendary "Cutler-to-Aromashadou" combination.  Minnesota may lose the #2 seed in the NFC, and seems bound for a first-round matchup with (and loss to) Dallas or Philadelphia.  Therefore, maybe it's time to think about Brett Favre's post-football career.
I can't see him as a game analyst or as part of a morning show, but I CAN see him as a spokesman for Flomax.  Imagine the commercials:  "Are you spraying it all over the field?  Have you become a gunslinger in the bathroom?  Is your release time hurt when you're wearing tight Wranglers?  Does your accuracy suffer in cold weather?  Then ask your doctor about Flomax.  Pretty soon, you'll be peeing like a kid out there."
Posted: January 1st, 2010 under Uncategorized. Author: seanKeane .
Comments: 154
Comments